Chrysler Has A New Pacifica-Based Crossover SUV Coming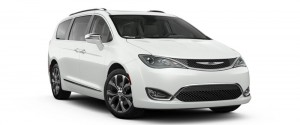 It looks like Chrysler is adding up to its lineup with a crossover SUV based on the Pacifica minivan. That is quite ironic since the brand repurposed the old Chrysler Pacifica crossover's name for a minivan and then later on, that very same van yielded another crossover.
The information that FCA CEO Sergio Marchionne revealed in his interview with MotorTrend is an exciting development from Chryler. That's because nothing much is going on with the brand in the past months, except for the departure of the 200.
With only the 300 and the Pacifica currently in its lineup, Chrysler is looking to market its brand to another market—specifically, people who doesn't want either a large sedan or a minivan. Both these segments are giving up their share of the market for the crossover, which will have three rows and will reportedly in 18 months.
This is the right step for Chrysler since companies like Subaru and Volkswagen have also expanded their market to that of the crossover segment. The decision, of course, to use a Pacifica-based crossover will be beneficial to the crossover's market. After all, a Pacifica platform offers more advantages than spewing just another model.
There are some "unique opportunities" in store for the new crossover since it will be using the Pacifica platform. Finally, we could have a crossover that has a spacious cargo and passenger space. There is also the possibility of adapting the PHEV powertrain to the new crossover.
Plug-in crossovers haven't been tried by "ordinary" brands, except for Mitsubishi, though the Japanese automaker only tried the plug-in variant with its luxurious Outlander PHEV. That being said, the Chrysler has a chance to offer a larger PHEV than the Outlander.