Hyundai Readies EV Concept For New York Auto Show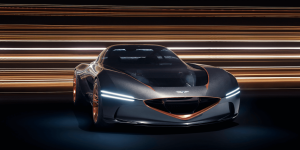 Hyundai is gearing up to introduce some new electric vehicle (EV) concepts at the upcoming 2019 New York Auto Show. During the Hyundai Sonata press launch in South Korea, design head Luc Donckerwolke told Roadshow that there will be an "electric show car for [the] Genesis."
For the entire Hyundai-Kia brand, this year's auto show in New York will be all about the Genesis and EV concepts according to Autoblog. If you can remember, we've already seen the GV80 SUV concept and its hydrogen fuel cell powertrain in 2017, as well as the electric Essentia coupe concept last year. What's left is the production version of the US-market-bound Genesis G90 and its mongo grille.
Also to make its debuts are the new Sonata and Venue crossover. A still unnamed Kia show car is expected to make its entrance, too. The show car will be the version of the SP Signature concept and can potentially be called the Tusker in the US market.
The Hyundai-Kia Group isn't making EV concepts for car shows alone. According to Auto Express, the group is working on a new electric car platform that will serve their lineup of cars. This was inspired by Volkswagen's role in the MEB architecture primarily being used today by the German group's brands. Right now, the only EVs available from the South Korean brand are the Hyundai Kona and Ioniq and the Kia e-Niro and Soul.
Though they still use the ICE platforms, both the Kona and e-Niro have become so popular in the European market that the company already projected these to sell out once they are released there.
Sources said that the new EV platform is currently in the development stage and will primarily focus on the B- and C-segment cars. That expected launch is two years from now, the same year we expect the EV version of the Genesis to be ready.
This move is part of the Hyundai-Kia plan to have 38 electrified options by 2025.